Overview
The plantar fascia is a tough and flexible band of tissue that runs under the sole of the foot. It connects the heel bone with the bones of the foot, and acts as a kind of shock absorber to the foot. Sudden damage, or damage that occurs over many months or years, can cause tiny tears (microtears) to develop inside the tissue of the plantar fascia. This can cause the plantar fascia to thicken, resulting in heel pain. The surrounding tissue and the heel bone can also sometimes become inflamed.
Causes
Plantar fasciitis generally occurs over time, rather than being the result of a single event. Micro trauma from repetitive stress to the tissue often combines with a biomechanical deficiency of the foot to produce the condition. In addition, arthritic and metabolic factors may contribute to the development of this injury, (though they are unlikely to affect young athletes). A variety of training errors commonly lead to plantar fasciitis, particularly a rapid increase in either volume or intensity of athletic activity. Volume refers to the distance or time an athlete performs, while intensity refers to the pace of activity and/or the recovery time allowed following performance.
Symptoms
If you are concerned that you may have developed this syndrome, review this list of symptoms to see if they match with your experience. Aching, sharp or burning pain in the sole of your foot, often centering in the heel area. Foot pain that occurs as soon as you step out of bed or get to your feet after prolonged periods of sitting. Pain that may decrease eventually after you've been on your feet for awhile, only to return later in the day. Sudden heel pain or pain that builds gradually. Foot pain that has lasted for more than a few days, or which you experience periodically over the course of months or years. Pain in just one foot, though it is possible to have Plantar Fasciitis affect both feet. Swelling, redness, or feelings of heat in the heel area. Limping.
Diagnosis
Plantar fasciitis is one of many conditions causing "heel pain". Some other possible causes include nerve compression either in the foot or in the back, stress fracture of the calcaneus, and loss of the fatty tissue pad under the heel. Plantar fasciitis can be distinguished from these and other conditions based on a history and examination done by a physician. It should be noted that heel spurs are often inappropriately thought to be the sole cause of heel pain. In fact, heel spurs are common and are nothing more than the bone's response to traction or pulling-type forces from the plantar fascia and other muscles in the foot where they attach to the heel bone. They are commonly present in patients without pain, and frequently absent from those who have pain. It is the rare patient who has a truly enlarged and problematic spur requiring surgery.
Non Surgical Treatment
Plantar fasciitis is usually controlled with conservative treatment. Following control of the pain and inflammation an orthotic (a custom made shoe insert) will be used to stabilize your foot and prevent a recurrence. Over 98% of the time heel spurs and plantar fasciitis can be controlled by this treatment and surgery can be avoided. The orthotic prevents excess pronation and prevents lengthening of the plantar fascia and continued tearing of the fascia. Usually a slight heel lift and a firm shank in the shoe will also help to reduce the severity of this problem. The office visit will be used for careful examination and review to distinguish plantar fasciitis and plantar heel pain syndrome from other problems, many of which are outlined below. It is important to distinguish between a stress reaction of the calcaneus and plantar fasciitis. A feature of many calcaneal stress fractures is pain on lateral and medial compression of the calcaneus.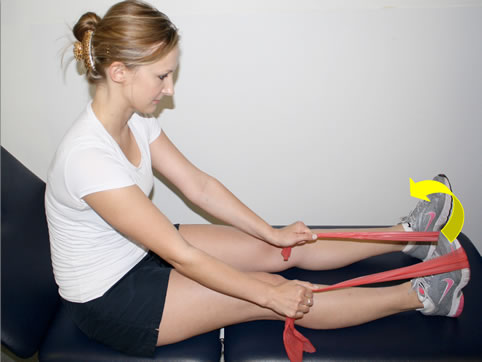 Surgical Treatment
In cases that do not respond to any conservative treatment, surgical release of the plantar fascia may be considered. Plantar fasciotomy may be performed using open, endoscopic or radiofrequency lesioning techniques. Overall, the success rate of surgical release is 70 to 90 percent in patients with plantar fasciitis. Potential risk factors include flattening of the longitudinal arch and heel hypoesthesia as well as the potential complications associated with rupture of the plantar fascia and complications related to anesthesia.
Stretching Exercises
Stretching exercises for the Achilles tendon and plantar fascia are recommend to relieve pain and aid in the healing process. Sometimes application of athletic tape is recommended. In moderate or severe cases of plantar fasciitis, your doctor may recommend you wearing a night splint, which will stretch the arch of your foot and calf while you sleep. This helps to lengthen the Achilles tendon and plantar fascia for symptom relief. Depending on the severity of your plantar fasciitis, your physician may prescribe a store-bought orthotic (arch support) or custom-fitted orthotic to help distribute your foot pressure more evenly.